You are likely to notice several common threads running through KARNEY's musical creations; whether they involve her work with her funky indie rock band, her singer-songwriter outings with guitar and DJ Standout Selector, her compositions for computer and video games and other commercial clients, or her work with many other artists and bands. Karney's work always contains elements of solid musicianship based on diverse influences, a knack for smithing appealing and energetic songs, and the benefits of frequent collaboration with top artists. Her work always shows an ear for poetic phrasing that softens the impact of political and social themes that are often as unsettling as they are urgent. Karney has recently addressed topics such as youthful victims of war, and unreasonably harsh penalties suffered by those violating the marijuana prohibition. Karney's heavy lyrical themes are balanced out by winsome rhythms as well as more whimsied themes that veer away from the political into personal musings on life's small pains and pleasures and the occasional wry wink at an unvarnished sexuality.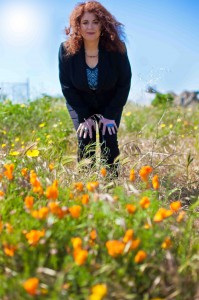 Karney not only blends influences ranging from punk to Salsa to the flower-powered music and politics of her hometown San Francisco but also enjoys direct cross pollination with many artists. She has worked most recently with PSM Recording's Steffen Franz with who co-produced the single "My Little Bush." Franz, who often tours with Karney, provides dancehall style DJ toasts both in live performance and on the MLB single, which decries the harsh penalties exacted upon the "happy majority" of adults who choose to use marijuana under today's draconian drug laws and enforcement policies. The single also enjoyed the studio talents of mixer Dennis Bovell and engineering by Bill Ortiz. Reggae veteran Dennis Bovell is a producer, solo artist, and founding member of Matumbi, a venerated reggae act from UK, while Bill Ortiz, owner and founder of Planet Recording also plays trumpet for Santana. On her debut CD titled KARNEY, Karney recruited fellow musicians from the Bay Area using a variety of less common instruments including the bassoon and the Karna, a double reeded oboe-like instrument from the Marakech region. Karney's collaborative approach to music dates back to when she co-founded the band Stepchildren, innovating a crossover blend of Heavy Metal and Hip-Hop at a time long before rap-metal bands became commonplace. Stepchildren released an album with London's Big Red Records and had funk luminary George Clinton remix its college radio hit Jericho. Clinton then invited KARNEY to appear on a video for his CD Cinderella Theory. Shortly thereafter KARNEY went on national and international tours as keyboardist and guitarist with Angel Corpus Christi, and shared her piano and songwriting talents on collaberations with Linda Perry of 4-Non Blondes.
KARNEY currently applies her considerable singer/songwriter talents to both her own material and compositions commissioned by clients in the multimedia and computer gaming industries. Her crossover Ambient Electronic and Groove sounds provide accompaniment for Sim City 3000 and 3000 Ultimate, as well as scores for The Showtime Channel's Heavy Weight Boxing events.
Her use of dynamic changes, unusual instrumentation, and poetic lyrics has gained Karney considerable attention since she set out on her solo recording career. CMJ Music Monthly, Relix, the Stranger, and Zero have all profiled Karney in recent issues while her tours reach increasingly large in-house audiences, as well as fans tuning in from far-flung locales thanks to web simulcasts of several recent shows. Low tech indie rock fans have also been able to keep up with Karney through radio play on numerous stations as well as availability of her latest single on CD and 7-inch vinyl. Fans who appreciate fine songwriting, a vibrant live sound, and lyrics that don't shy away from harsh realities have been getting on board as Karney's growing musical enterprise gathers steam.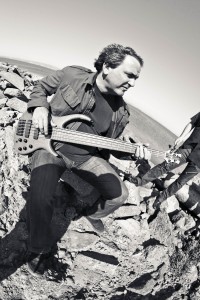 Kimon Manolius –  Bass
Kimon was classically trained on upright and has played bass since the 4th grade. Born in Manhattan and raised in Queens and Westchester County, Kimon came to the Bay Area by way of New England where he played bass in several bands.  He did not listen immediately to the advice of Horace Greeley, who so cogently advised that 'West' was the direction in which to 'go,' but came to that conclusion while standing on a beach in Santa Cruz, California, while attending the Democratic National Convention in San Francisco.  "Wait, they use the same money, and speak the same language (sort of) – I could move here?"  Six years later, he did just that.  He got in his car with two cats and two basses, shed his political past, and drove to California. Government lawyer by day, Kimon has played with a number of artists in the Bay Area. While he can be a hard driver, his playful and melodic bass lines punctuate his approach to rock, blues, funk, reggae and dancehall.  He continues to explore new genres and styles and, more than anything else, loves to learn.  "I have never had so much fun as I do playing with Anna, Jeff, and Mike D.  There is so much
energy. It grows and we become way bigger than the sum of our parts."  When he is not playing bass, Kimon enjoys playing guitar, cooking, soccer, and the garden, where it is said he has a very green thumb.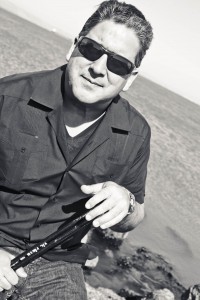 Jeff "Trump" Herrera – Drums
A third generation native San Franciscan, Jeff has been playing drums and percussion professionally for over twenty five years. Jeff's versatile and dynamic playing have provided him opportunities to back some of San Francisco's  premier vocalists in the Latin, Jazz, Rock, Singer Songwriter, Reggae, Hip-Hop and World Music genres. Jeff has performed at acclaimed Music Festivals such as Sierra Nevada World Music Festival (CA), South by Southwest (Austin, TX), and North by Northwest (Seattle, WA). He has also headlined such historic venues as The Fillmore Auditorium, The Great American Music Hall and the Herbst Theater. Jeff is also in demand as a recording artist, contributing to records, projects and Soundtracks for TV, film and theater. Jeff is currently working with a variety of musical acts in the San Francisco area. Jeff loves exotic stamps, desserts served on fire, warm puppies, fishing in Lake Titicaca, exact change and the smell of new civic buildings.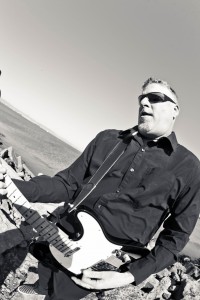 Mike Doyle – Guitar
Michael Doyle has been performing in San Francisco and the Bay Area for over 20 years.  As a founding member of the San Francisco live hip-hop band, the New Dealers, MD has shared the stage with such diverse artists as: the P-Funk All Stars, RUN-DMC, 3rd Bass, Cypress HIll, M.I.R.V, Buckethead, 311 , the Deftones, among others.Michael has performed at such festivals as the SXSW, NXNW, the Sierra Nevada World Music
Festival, the Haight St. Fair, etc.  A mainly self-taught left-handed guitarist, Michael plays a right handed guitar, ala a main influence, Albert King.  Other influences include his father, Dennis, Eddie Hazel, Jimi Hendrix,Wino, Chuck D., Ol' Dirty Bastard, GZA/Genius, Leslie West, Jorma Kaukonen, Angus+Malcolm, Bon Scott, Tony Iommi, Junior Marvin, Link Wray, and too many others to mention…Michael is a journeyman inside wireman, and a proud member of IBEW Local Union #6.
Address:
Karney
PO Box 410127
San Francisco, CA
94141-0127