Buy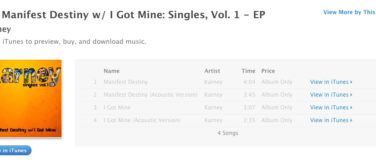 Karney's new release "Manifest Destiny w/ I Got Mine: Singles, Vol. 1 – EP" is available for purchase on Apple iTunes.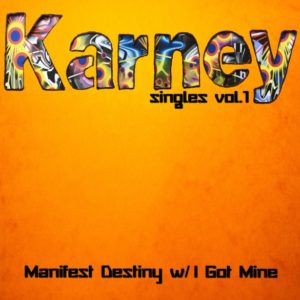 Love & Respect

Download the one sheet for Karney, Love & Respect
Karney shows an ear for poetic phrasings that encapsulate the impact of socio- political themes that are often as unsettling as they are urgent. This is true of her new EP "A Beautiful Day", which released digitally and direct to fans on November 20th, 2011, as well as her new full-length album "Love and Respect" due out in early summer 2012. Karney has addressed such topics as young war victims, the unrea- sonably harsh penalties enforced on those violating marijuana prohibition, global warming, and outsourcing and its affects on workers. Her heavy lyrical themes are balanced out by winsome rhythms and some lighter fare that veers away from the political into more personal musings on life's small pains and pleasures, along with the occasional wry wink at unvarnished sexuality.
Manifest Destiny w/ I Got Mine: Singles, Vol. 1 – EP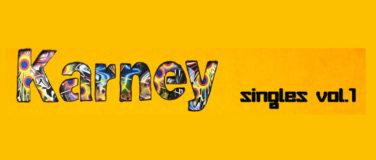 Bay Area Rock Songstress Karney to Release Her New Singles Vol. 1: Manifest Destiny w/ I Got Mine This Fall, Ahead of Her Upcoming Full-Length Album Renditions in Early 2017
For Immediate Release – San Francisco, California. Karney is a San Francisco-based singer/songwriter that has been making great music for many years, performing across the US and collaborating with many talented and notable artists. Keeping her mind on social justice and positive messages, her lyrical content offers a sardonic and sometimes straight forward approach to many of the issues facing people today, with a message of hope resonating throughout every song she writes.  Karney is digitally releasing a handful of new songs between August and the end of 2016 in support of her upcoming full-length album Renditions, due out in early 2017.